dona
Гималайская соль - поставщик
Гималайские солевые лампы
На сайт пришло такое сообщение - публикую, возможно магазинам и оптовикам будет интересно. Производитель и экспортёр гималайской соли и солевых товаров. Солевые лампы и подсвечники, солевые подушки, и многое другое. Кусковая соль, соль два ванн, гималайские грязевые маски, устройства для промывания носа... Даже уникальные товары - солевые кирпичи для печей, солевые кормушки для животных (коров, лошадей)!

Dear Sir/Madam,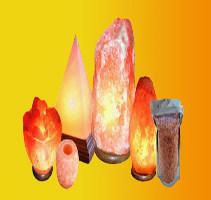 Hope you are fine and in Best of your health.
We are one of Leading Manufacturer & Exporter of Himalayan Salt & Salt products.
Currently we are Supplying In Many parts of Europe, Australia, Canada & US.
We can give you best offer in market as we are seeking for regular business with fair dealing.


Please Also visit www.nextforward.com


Please let us know your requirement and do hesitate to contact us any time.

With Regards,
Rashid Ihsan
E MAIL: info@nextforward.com , sales@nextforward.com
Tel: +92-300-8619091
Khewra Salt Mines is a salt mine located in Khewra, Jhelum, District, Punjab in Pakistan, about 160 kilometers (99 mi) from Islamabad and 260 kilometers (160 mi) from Lahore. It attracts up to 40,000 visitors per year and is the second largest salt mine in the world. Situated in the foothills of the Salt Range, the Khewra Salt Mines are the oldest in the South Asia.
Salt has been mined at Khewra since 320 BC following discovery by Alexander's troops, in an underground area of about 110 square kilometers (42 sq mi). The main tunnel at ground level was developed by Dr. Warth in 1872 but has since been converted into a tourist resort. Khewra salt mine has estimated total of 220 million tonnes of rock salt deposits. The current production from the mine is 465,000 tons salt per annum.
The mine-head buildings have 19 stories, with 11 below ground. Only 50% salt is extracted and 50% is left as pillars to support the mountain. The salt-mine is 288 meters (945 ft) above sea level and extends around 730 meters (2,400 ft) inside the mountains from the mine-mouth. The cumulative length of all tunnels is more than 40 kilometers (25 mi).
Salt occurs in a Pre-Cambrian deposit in the form of an irregular dome-like structure. There are seven thick salt seams with a cumulative thickness of about 150 meters. At places the rock salt is 99% pure. Salt is transparent, white, pink, reddish to beef-color red. There are beautiful alternate bands of red and white color salt.


When used in hospital and clinic environments, such as a waiting room, salt lamps can create an atmosphere of relaxation. The lamps are also useful in the healing process for convalescents. It gives a calming and comforting effect in whatever room it's placed in, reducing stress. These lamps are good for bars, clubs, casinos, coffee shops and places where smoking is prevalent, as salt lamps reduce lingering smoke residue. They absorb a great deal of the negative ions from the room created by the smoke. Salt lamps are also used in color therapy (chromo therapy). The soothing effect from the light helps people with neurotic or insomnia disorders cope.

Солевые лампы, подсвечники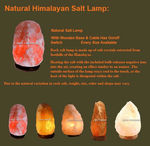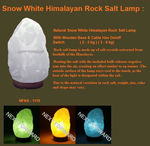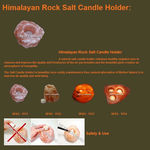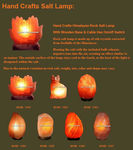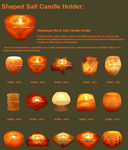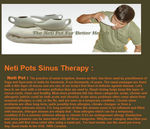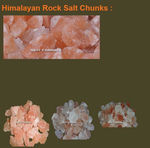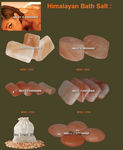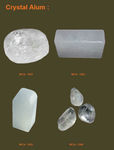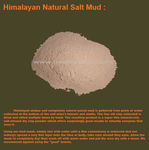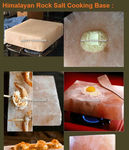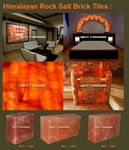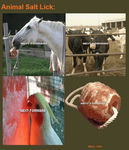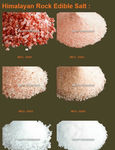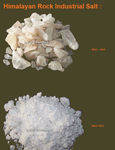 Hello,

We are basically Manufacturers and Exporters of Himalayan Edible Salts, Bath Salts, Salt Inhalers and Salt products such as lamps, tiles, block, bricks and many more.

We also make Himalayan Salt Caves, Salt rooms, Salt Walls and much more. For more info and designs, please see our new website caves.multirocksalt.com

We are also ISO 9001: 2000, HACCP AND FDA approved Company,

We are Proud to announce that we have made the world's tallest salt crystal lamp,

Height 8 feet and 4 inches and weight approx 3500 KG,

Also visit our website to see the world's biggest salt crystal Lamp,

We gained trust and good reputation in international market as most popular brands in Europe, USA and Far East countries are using our products regularly.

Thanks,

Questions?



Roshaan Hussain | Marketing Director | Multi Rock Salt Company
U. S Office: +1 (415) 513 0044 | Pakistan Office: +92 300 490 5739 | Skype: multi.rocksalt
www.multirocksalt.com | info@multirocksalt.com / multi.rocksalt@gmail.com




Привет!
Наша компания является прямым производителем гималайских солевых продуктов, в том числе гималайских солей, соляных ламп, соляных плит, соляных блоков, соляных кирпичей, продуктов для солевого массажа и многих других.
Мы являемся сертифицированной компанией ISO 9001: 2005, Haccp и Сша fda со складами в Европе и США (Лос-Анджелес, Калифорния и Даллас, штат Техас).
Мы имеем более чем 10-летний опыт работы в солевой промышленности и имеем глобальное присутствие.
Мы также изготовили самую высокую в мире гималайскую соляную лампу высотой 100 дюймов и весили 3500 кг (~ 7700 фунтов).
Свяжитесь с нами сегодня и получите заказ!
Попробуй, тебе понравится!
Спасибо,
Спасибо,
Thank you,
Sobia Sajid | Sales Associate
Multi Rock Salt Company
USA : +1 (415) 513-0044 | Netherlands : +31 (0) 611448394
Pakistan : +92 300 490 5739 | Hungary : +36 70 524 8278
www.multirocksalt.com | info@multirocksalt.com
The information contained in this transmission and any attachments may contain privileged and confidential information. It is intended only for the use of the person (s) named above. If you are not the intended recipient, you are hereby notified that any review, dissemination, distribution, or duplication of this communication is strictly prohibited. If you are not the intended recipient, please contact the sender by reply email and destroy all copies of the original message.

Dear Sir / Madam,
hope you will be fine. We would like to introduce our company as a manufacturer and exporter of Himalayan rock salt products. We have excellent quality products matching your needs. We would like to request you to please see our product list below and give us a chance to serve your organization.
Our Product Range includes:
1. Himalayan Rock Salt Lamps, Candle Holders & Tea Lights.
2. Himalayan Rock Salt Crafted Lamps, Candle Holders & Tea Lights.
3. Himalayan Rock Salt Aroma Diffusers
4. Himalayan Pink Gourmet Salt fine and coarse
5. Himalayan Rock Salt slabs / Plates
6. Himalayan Rock Salt Chunks
7. Himalayan Rock Salt Massage Stones
8. Himalayan Rock Salt Animal Shaped Lamps
9. Himalayan Rock Salt Vases
10. Himalayan Rock Salt Natural and Crafted USB Lamps
11. Himalayan Rock Salt Natural Rock Salt Night Lights (Natural, Crafted and Metal.)
12. Himalayan Rock Salt Pestle and Mortar
13. Himalayan Rock Salt Serving Bowls
14. Himalayan Rock Salt tequila glasses
15. Himalayan Rock Salt foot detox
16. Himalayan Pink Bath Salt and Bath Bars
17. Himalayan Rock Salt and Wood combination Lamps (Baskets)
18. Himalayan Rock Salt and Metal combination Lamps (Baskets)
19. Himalayan Rock Salt Slabs/Blocks/Bricks for interior decoration
20. White Crystal Salt lamps and products
We provide good packaging services as we have packaging development department (from sampling to production) because we know packaging plays an important role in any business.
Please, send us the details of your required products with their specification to let us quote you the best price. We will be at your service.
​Best wishes of new year from us.​
Very best regards,
Mohammad asghar ,
www.gbeximp.com
+92321-948-6081
Lahore, Pakistan.
Save paper, Save trees, Go green.